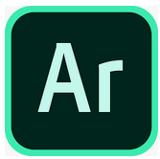 Upgrade to iOS 13.1.2 required to use Aero
In order to install the newest build version 1.0.0 (23), it requires an upgrade to iOS and iPadOS (13.1.2) for iPad or iPhone. We first upgrading the OS on your device before updating to the newest version of Aero.

Project Aero folders in Creative Cloud are now deprecated
As of this release, the file folders under Project Aero in your Creative Cloud files are no longer a recommended workflow for converting or storing files for Aero.
We recommend that you move your relevant content from the Project Aero folders to another location in Creative Cloud. Once you have done that, you may safely delete the old Project Aero folders as importing from these file locations may cause errors.
New simplified import workflow
You can now import your asset files directly from wherever they are stored or linked on your device. These file directories can be accessed by tapping the "plus" (+) button in Edit mode.
Creative Cloud (outside of the deprecated Project Aero file folders)
DropBox

Google Drive
What's new in Aero version 1.0.0 (23)
Create New Animation Path
Use your mobile device  to draw motion paths that animate the movement of objects in your scene.
Additional Export and Share Options
​Share a deep link with others prompts recipients to install Aero and then open your AR experience to view on their own device

​

Send a .real file (Aero's proprietary file type) that can be opened and edited in

Aero mobile.

Send a .

usdz or .reality file to recipients who can view the experience on their own AR enabled device using Quick look preview. These files can also be embedded in 3rd party apps via XCode.
Additional Starter Assets
More categories have been added including animated assets, alphabet letters, and transport toys that are great to use with the new Animation Path feature.
​​​
Version 0.10.0 (7) gives you the ability to import files directly from the file directory onto your device. We've also set out to make asset management easier for you by displaying a thumbnail of the image in your Asset Tray. This works for image files today, but in the future it will also work for 3D assets as well.
In this new version, you can also enjoy feature updates on:
Surface find and highlight
We've improved visual feedback! To make it easier to place content, in this build you can now see the feature points and white grid outlines when you're tracking surfaces.
Behavior Builder
This build brings you an updated layout for adding triggers and actions so you can add multiple actions to the same object in your scene.
Image Anchors
A new interface for selecting image anchor sizes give you control over anchor sizing. Anchor your creation to an image so you can easily initiate an experience by capturing the image.
UI/UX
Improvements to the asset tray now allow you to rotate your device and enjoy your masterpiece in any direction, even landscape mode.
Known Issues:
A Load scene from files fails, " 'cloud-content' already exists at this location"

Image marker size is smaller than the physical marker if the chosen image is in portrait aspect ratio

Inconsistent behavior for .real save to files

VERSION 0.8.1 (1) DETAILS
FEATURES
Surface find and highlight
Scan and visualize reliable surfaces where you can place objects.

Home Screen
The home screen is an improved way to browse aero experiences so that they can be reloaded later. This feature is in early beta.
BUG FIXES
- Audio is now synced with video recording
- Opening a scene no longer infinitely loads
- Object locator chevron no longer stays on-screen when deleting an asset
- Property tool bar no longer obscures object locator chevron
- Drop-down menus no longer disappear when returning to edit mode
- Visual improvements made to asset thumbnails