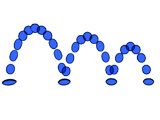 12 Animationsprinzipien - Walt Disney Studios
In den 30er Jahren entwickelten Animatoren in den Walt Disney Studios die 12 Animationsprinzipien. Diese allgemeingültigen Prinzipien stellen die Grundlage für handgezeichnete Animationen dar. Bei den meisten Animationen kommen mehrere Animationsprinzipien zum tragen. Es handet sich um Richtlinien und keine verbindlichen Regeln:
Squash and Stretch
Anticipation
Staging
Straight Ahead Action and Pose-to-Pose Action
Follow Through and Overlapping Action
Slow In and Out
Arcs
Secondary Action
Timing
Exaggeration
Solid Drawing
Appeal
Die meisten dieser 12 Animationsprinzipien gelten auch für andere Animationstechniken wie Stop-Motion-Animation oder Computeranimation. Die Prinzipien Pose-To-Pose Action oder Solid Drawing sind Prinzipien, die eher für handgezeichnete Trickanimationen gelten.
Literatur: " The Illusion of Life - Disney Animation", Frank Thomas & Ollie Johnston (Hyperion, New York, 1981)